Product Description
Pain Killer With Simple Touch!
To Read The Testimonial Of Genesen Acutouch, Touch Here!

Non-Invasive Alternative Acupuncture Therapy for over 220 ailments
Over 600,000 Genesen Acutouch Pointers Sold Already!
The 1,100 gausses focused magnetism of Genesen Acutouch M5.2PowR ensures greater results over a shorter period of time than Genesen Touch Pointer G300S.
The H-shaped white plastic holder is replaced with a square-shaped white plastic holder and the attached sticks.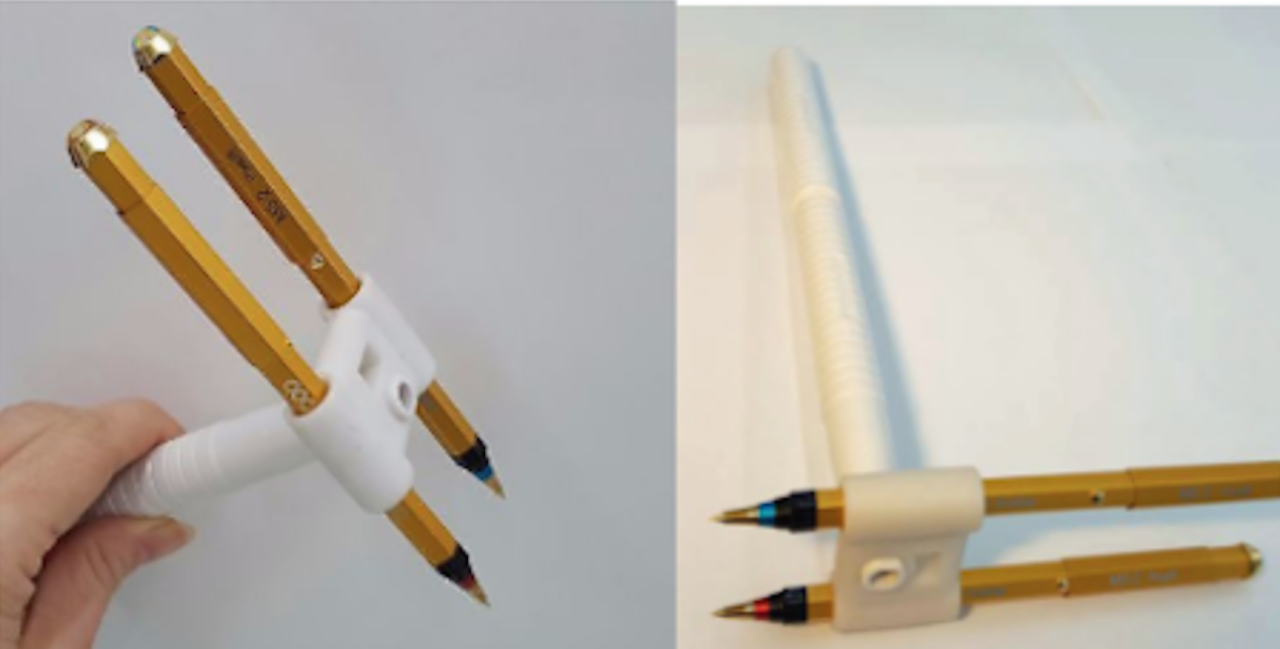 Genesne Acutouch M5.2 Power Comes With Extentions
DRS' REVIEW OF ACUTOUCH
non-invasive acupuncture, a natural and holistic therapy.
Dr. Blair Christink B.sc., D.C. (Canada)

"Genesen Acutouch has provided me with a new and complementary therapy to deal with sports injuries and chronic conditions, and has been extremely successful."

A 44 yr. old Caucasian male(Dr. C) presented with a past history of low-grade chronic sinusitis, developed an acute pharyngitis(sore throat) with sudden onset. Consulting his GP, it was confirmed that the infection was streptococcal and an antibiotic was prescribed. The following day, the pharyngitis was resolving well, however, by the evening considerable rhinitis(runny nose) had developed.


Wondering if he was going to be much of the night wiping his nose, Dr. C. applied the ATPs to the frontal region of his face in keeping with the "runny nose" protocol in the ATP manual while watching the news. some of the points were extremely acute and elicited the nose to go from intermittent streaming to "flooding" Within fourteen minutes, the nose suddenly dried up and the nasal passage was "very patent". The patient retired for the night. He did awake once during the entire night and his nose breathing was very good for the entire following day. The APTs were again applied for an additional two days to the same protocol pattern and each day the active points became less acute. No medication was taken, and nasal passages have remained clear.



Dr. Frederic Motz D. Hom., D.O., D.Ac., D.N. (France), Dip. Ay. V

"I was first introduced to Genesen Acutouch Therapy in 1998, and since that time have incorporated it extensively into my practice. I have personally had considerable success with a wide range of conditions."

Another case involved a male with prostatitis. The case is very peculiar. Within 30 days of a spider bite, he developed an infection within the prostate. The PSA was up to 60(normal is from 0-4) We decided to apply the Acutouch to the scar. As a result, within the next 2 days, there was an outpouring of pusvia the urinary tract and also from the sigmoid colon. We continued with homeopathic injections, but 1 really do believe that the Acutouch onto the external area of the scar of the spider bite and prostate precipitated an elimination of the infection. He now has a normal urinary stream. The prostate appears to be healthy: there is no pain, he can sit properly and I am awaiting a repeat PSA, which 1 expect to be normal.

Dr. Jock Posen M.B., Chi.B.,L.R.C.P. (Edin.)
L.R.C.S. (Edin.), L.R.C.P. & S. (Glas.)

"I have been using Genesen Acutouch Therapy in my practice for several years, and frankly I am amazed at the results. It has allowed me to treat patients who previously I would have sent home to bear the effects of conditions I could do little about."

Mr. S. is a 67-year-old golfer. He presented with a problem on the foot, showing a deep scar. On investigation, there had been three operations after a long-standing staphylococcus aureus infection, that gave him an abscess on the foot, as well as endocarditis. As a result of the third operation, fusion was performed. The pain was extreme, especially on standing and walking, and movement was impaired. His life had come to a standstill he could not play golf. After the first treatment of 25 minutes, the whole situation was improved by 80%. The patient has acquired a set of Pointers for himself and routinely self-administers the treatment, twice each day for half an hour each time. His own quotation says "It has improved my life tremendously. "Thank you"

Dr. Colin la Grange


M. Tech. Deg. Hom.





"Genesen Acutouch is the only device that I have experienced which has true healing power, like ancient acupuncture, which everybody can use on himself."
Lowell E. Kobrin, MD, Ph.D. (USA, Founding Member, American Academy of Medical Acupuncture, Diplomate of the American Board of Medical Acupuncture)

Case of Carpal tunnel symptoms. It is my general experience that the non-invasive Genesen Acutouch is as effective as needling on the acupuncture points, whether the points are used in the traditional fashion, or in one of the micro-systems.
The patients' acceptance of the Genesen Acutouch treatment is better than if needles were used, and the results are equal or even better in many cases. I highly recommend its use on both children and adults."
Patient Marilyn Lacy of Port Oxford agrees. Lacy, a heavy equipment operator for the road department, has been using Dr. Korbin as her general practitioner for nine years. In March, Lacy was having carpal tunnel symptoms and could barely open her Thermos at work. Because the problem was work-related, Lacy was sent to a doctor approved by her employer's insurance. "He just gave me a bunch of drugs.

Lacy said, "But I have a commercial driver's license, so the only thing I could take was
an anti-inflammatory. With acupuncture, I don't have to worry about it."
Lacy has three treatments with the Genesen pens for the carpal tunnel so far and is continuing treatment.
"Unfortunately, I can't stop working to let it rest," she said. Lacy said not only is the pain gone, but her energy level is higher."
I have no idea how it works, it just does," Lacy said. "I think it is something that everyone should explore if they have any kind of pain"
Dr. Shiva Shivani (USA, Chiropracter)

"I want to thank you for introducing us to Genesen Acutouch. It is great! I love it and am using it all the time. My patients are feeling better after Genesen Acutouch treatments. I will tell all the doctors that they should have one in their office and their patients will benefit a lot from it."
FOUR CRUCIAL HEALING AGENTS OF ACUTOUCH
1. Qi (Body's Energetic Balance)
Qi is attracted through patented sympalenses located at the caps of Genesen Acutouch.

Qi amplifed and accelerated by hexagonal tube.

Qi is accelerated by the magnetic field.

Qi is focused through the tapered tip of Genesen Acutouch Touch Pointer.

The focused Qi penetrates the body when the Genesen Acutouch Touch Pointer touches the skin.
This Qi is the sole power source employed in the Genesen Acutouch Touch Pointer.
2. Highly focused streams of magnetic fields (1,100 gausses)
Eliminates toxins, cellular waste, cholesterol deposits, mineral deposits in the blood vessels 25mm under the skin.

Improves circulation

Reduces cholesterol levels

Removes toxins

Delays the aging process

Contributes to rapid bone regeneration
3. Negative Ions (Anion)
Genesen Acutouch Touch Pointer contains Hitachi which produces a continuous flow of beneficial negative ions. Negative ions are amplified in the hexagonal Genesen Acutouch Touch Point, and are highly focused through the tapered tip of Genesen Acutouch Touch Point.
The balance of negative ions and positive ions (cations) is disrupted by pollution, hazardous electromagnetic waves, excessive exercise, sleep deprivation or stress.

Negative Ions accelerated by the magnetic field emitted by Genesen Acutouch Touch Pointer
Absorb and utilize oxygen

Neutralize free radicals

Revitalize cell metabolism

Enhance immune function

Purify blood

Balance the autonomic nervous system

Promote deep sleep and healthy digestion

Protect the body and mind from the harmful effects of environmental electromagnetic fields.
4. Far-Infared Ray (FIR)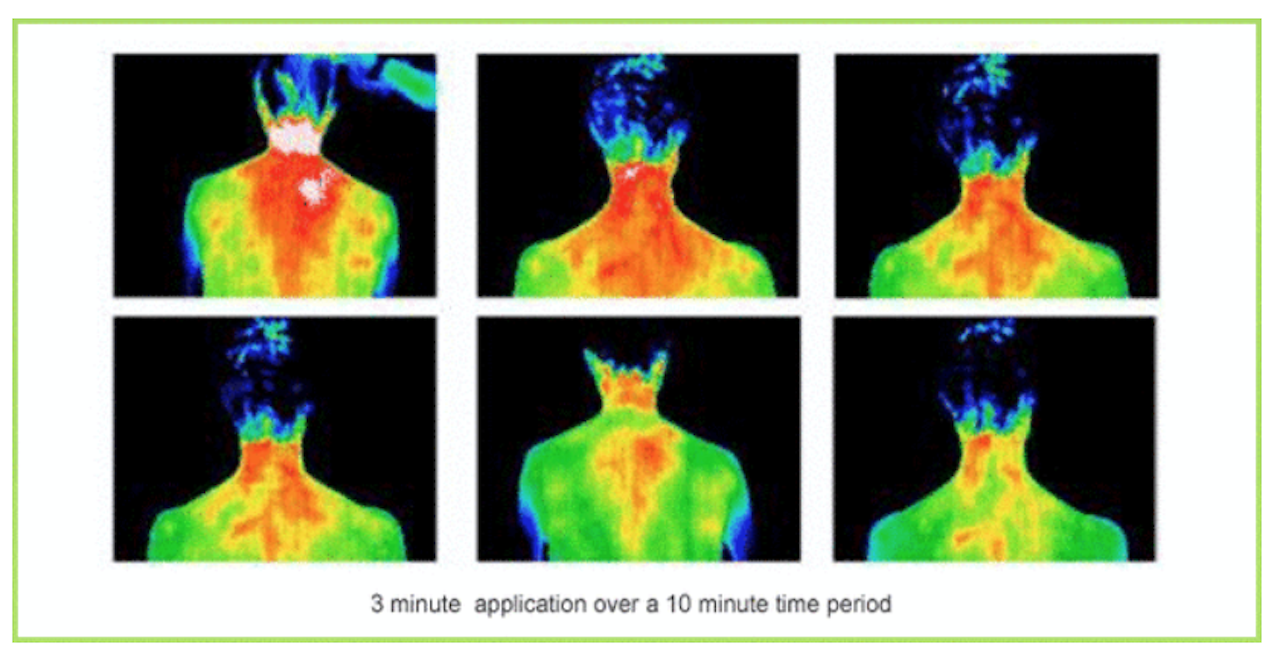 Thermal imaging equipment has recorded 0.50 degrees C rise in temperature at the site of application of Genesen Acutouch Touch Pointer.
FIR is amplified in the hexahedron tube of Acutouch, and it is focused through the tapered tip of Genesen Acutouch Touch Pointer. The focused FIR penetrates the body when the Genesen Acutouch Touch Pointer touches the skin.
Increases the temperature of the deeper tissues beneath the skin

Dilates capillaries

Improves blood circulation

Increases metabolism

Revitalizes tissue damaged through trauma, infection or other physiological stress

Facilitates the production of various enzymes

Assists in the reduction of free fatty acids, cholesterol, and sodium

Delays the aging process of cells


Activates the lymphocytes to improve our immune functions
How to Use Genesen Acutouch
Should always be held at 90 degrees to the surface of the skin.

Hold in position for between 30 seconds and 2 minutes or more until you experience some form of altered sensation.

Maybe a tingling sensation, a feeling of warmth, an electrical feeling, or the points of the Genesen Acutouch Touch Pointer may feel particularly sharp. Wait for this sensation to disappear before moving to the next point.

Benefit can be gained from 2 treatment sessions of at least 20 to 30 minutes per day.

To treat your specific ailment, follow the acupuncture point formula given in the Genesen Acutouch User's Manual.

In the case of local pain or inflammation, simply apply the Acutouch Pointers to these areas.

The more frequently you treat the condition, the quicker the improvement will be.
Inventor of Genesen Acutouch
The Genesen Acutouch Touch Pointer was invented by Dr. Chi Kyung Kim, a successful South Korean Industrial Engineer, in 1994, in response to his personal wish to help his wife who had suffered a massive stroke and was given no prospect of recovery by both Western and Eastern Practitioners. With his knowledge of Physics he set about studying therapeutic phenomena known to enhance blood circulation which resulted in the prototype with which he brought his wife back to good health within a period of ten months.
About Genesen Intl. Ltd.
Genesen International Ltd. was founded in 1996. The word Genesen is a combination of the words, Genesis and Energy in our bodies which rejuvenates and revitalizes us.
Many tests and clinical trials were carried out at the Yanbian University Medical College in China and Riaoning University of Traditional Chinese Medicine School in China and at the Catholic Hospital in Seoul Korea to confirm its healing effects, before the product was released onto the market in 1996.
Since nearly 600,000 sets of Genesen Acutouch Pointer have been sold, initially in the Korean market by word of mouth, and subsequently in South Africa, China, USA, Canada, Germany, United Kingdom, Australia... over 33 nations.

Significant medical experience has been accumulated since the time Genesen Acutouch Touch Pointer was developed.
| | |
| --- | --- |
| | The acclaimed "MERITE D' INVENTION" medal awarded by the King of Belgium for Genesen's contribution to medicine. |
These statements have not been evaluated by the Food and Drug Administration.
This product is not intended to diagnose, treat, cure or prevent any disease.
Product Videos
Custom Field
Product Reviews